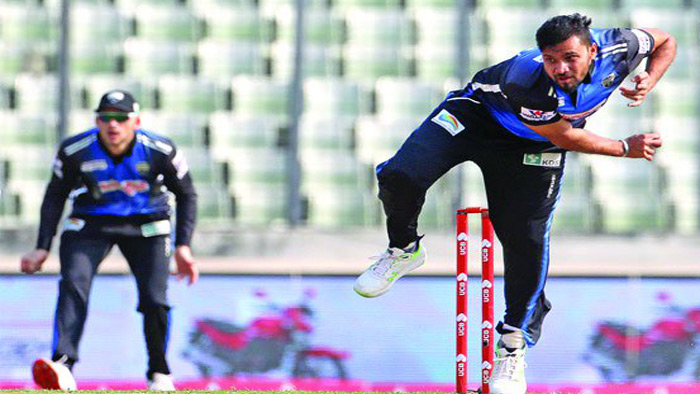 Rangpur Riders chased down 169 runs with Ryan Rosso and Ravi Bopara batting. Resum-Bopara gave the team a respectable place after batting amazingly, losing three wickets for 65 runs. Rangpur, honorable score, is an honorable score against the disaster in his responsible batting.
Rangpur South African cricketer Rousseau scored an unbeaten 76 off 52 balls, including eight fours and two sixes. England cricketer Ravi Bopara remained unbeaten after scoring 40 runs off 29 balls with three fours and a six.
Relay Rousseau BPL Fifa as the second batsman in the sixth season. Rangpur Raiders South African cricketer did well against open titans. Rangpur returned to the match, losing three wickets for 65 runs in his bat.
On Saturday, Afghan cricketer Hazratullah Zahey of Dhaka Dynamite filed the first BPL (78 balls with 41 balls) of the current BPL. Rangpur Riders lost the toss losing three wickets for 65 runs and chose to bat against open titans at the Share-E-Bangla Stadium on Sunday. Then Riley Russo and Ravi Bopara caught the team He made 84 not out in the fourth wicket.
Rangpur Ranpur Riders did not start off, riding on 65 runs for 3 runs. Openers Mehdi Maroof (5) returned to the batting after losing the toss. England opener Alex Hales did not get the chance to bat. Hales, who was misunderstood by Zimbabwe's Zimbabwean bowlers, scored 15 runs in 9 balls,
National team player Mohammed Mithun could not make the expected batting position in four. Last BPL Mithun, who scored 329 runs at an average of 29.90 in 19.3 overs, went back to 19 runs with 17 runs. After losing three wickets for 65 runs in 9.5 overs, opener Riley Rousseau reached the prestigious position. English cricketer Ravi Bopara joined them in the fourth wicket. In the last edition of BPL, Bopara made the third highest 365 runs.
Rangpur Riders: Relay Rousseau, Mehedi Maruf, Mohammed Mithun, Ravi Bopara, Alex Hales, Beni Howell, Farhad Raza, Mashraf bin Murtaza, Sohag Ghazi and Nazmul Islam Apu.
Open Titans: Paul Stirling, Carlos Bretwaite, Junad Siddiqui, Jahurul Islam Omi, Mahmudullah, Aryulul Haq, Nazmul Hussain Shanti, Taizul Islam, David Viz, Ali Khan, Shariful Islam and Zaheer Khan.
TR /