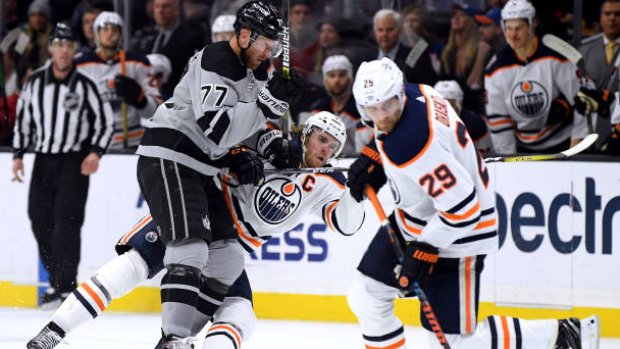 The National Hockey League's Trade Deadline is 3pm ET on Monday, Feb. 25, and teams will be making decisions on whether to buy or sell and decide which players can make the biggest difference. Check out the latest trade rumors and speculation from around the NHL beat.
---
No Quick Fix
Peter Chiarelli appears to be firmly on the hot seat as the General Manager of the Edmonton Oilers with TSN Edmonton Bureau Reporter Ryan Rishug writing Monday that "it seems inevitable that a change is coming."
TSN Hockey Insider Bob McKenzie agreed with that assesment on Monday, saying "Chiarelli is right in the crosshairs," but he added that the general manager post is not guaranteed to fix the Oilers.
"The really concerning part is about all of this is when you have seen this Oilers team built and you see the gaping holes that they have got beyond (Connor) McDavid, (Leon) Draisaitl, and (Ryan) Nugent-Hopkins up front – when you look at their blueline and see how much it is of top-end defenscmen and possibly lacking depth as well – you look at it and you say, 'where is the path to get better,' "McKenzie told TSN Radio 1050 Toronto .
"So even if they do decide to make a regime change with the general manager, when the new general manager – this is why I think Edmonton Oilers fans are upset, because whether it is us on the outside looking in or oilers fans or media looking at it, they're going, 'okay, so you bring the new GM in and you're in the year 4 of the Connor McDavid life cycle here, and so what do you do? Okay, maybe we should trade our first-round pick Maybe we should trade Jesse Puljujarvi. 'Do you really think that those moves are going to cure what the Edmonton Oilers?
"Listen, I did not have a problem with them trading their first-round pick the year that they traded for Griffin Reinhart. The problem, as it turned out, was Reinhart was not the right bet. "
McKenzie noted that trading for Reinhart in 2015 was one of several high-profile moves that have not been panned out for Chiarelli. He added that Brandon Manning last month has backfire on the Oilers for the team's recent trade for Drake Caggiula.
Edmonton (23-23-3) still sits just three points back in the final wild card spot in the Western Conference, but McKenzie said the problem for the oilers is that, while the postseason is a possibility, contending for a Stanley Cup is not – Both the season and the forseeable future
"One quick note on that," McKenzie said. "And I mentioned this on the Edmonton radio this morning too.What a superficially low bar to set. I know everybody is saying, 'We could still make the playoffs. We could still make the playoffs. '
"But you look at the way the team is built and you say, 'Do you honestly believe that this team, as currently constructed, with even one or two tweaks between now and the trade deadline – do you honestly think that's a team that can Contend for the Stanley Cup for the next number of years?
"And the answer, of course, is no way."
With the Oilers signing goaltender Mikko Koskinen to a three-year, $ 13.5 million contract on Monday, the team now has just under $ 73 million commitment in the next season's cap, leaving a projected $ 6.5 million in space with them $ 79.5 million, per CapFriendly
---
Talbot Out?
With the Oilers signing up to Koskinen to an extension on Monday, it shows fellow goaltender Cam Talbot's days in Edmonton could be numbered.
Both goaltenders were scheduled to become unrestricted free agents on July 1 before Koskinen re-signed on Monday and TSN Hockey Insider Darren Dreger suspects Talbot will now willing to waive his partial no-trade clause for any team with the door seemingly his future in Edmonton
The 31-year-old Talbot has a 9-13-2 record this season with a career-worst .894 save percentage and 3.27 goals-against average. He has a $ 4.17 million cap hit and submitted his 10-team approved trade list last May, According to Dreger.
---
Team to Watch?
The New Jersey Devils caught the NHL by surprise last season, improving from last in the Eastern Conference to a playoff team. This year, however, they have crashed back to earth and sit 15 points back of the final wild card spot in the East TSN Hockey Insider Darren Dreger said Monday that the Devils are emerging as a team to watch the trade deadline approaches.
"I did not think that they were going to take this big of a step back," Dreger said TSN Radio Edmonton 1260. "But I also thought that last year was a bit of an anomaly and overachieving.
"So in saying that, I did not expect that they will come back to earth and struggle a bit more than that, but I did not think that this year is going to be turned out to be . Some of it is injury-related, obviously specific to Taylor Hall. They have been wildly inconsistent
"And up till very recently, it was believed that Ray Shero could be among the more aggressive and active general managers between now and the trade deadline. And we're going to have to see
"One thing for sure is given his history, if Shero does not like something or he sees the opportunity to add a piece or pieces, then he's going to do that He's done that historically. "
---
Time to Load Up?
Marisa Ingemi of The Boston Herald believes the Bruins should be in the trade market for a top-six winger and a third-line center ahead of the trade deadline to boost their chances of hanging on an Atlantic Division playoff spot.
Ingemi listed Wayne Simmonds, Brayden Schenn, Micheal Ferland, Mark Stone and Jesse Puljujarvi among the "realistic options" for the Bruins ahead of the trade deadline.
The Bruins, who sit third in the Atlantic Division but are in Montreal Canadiens with $ 4.16 million in cap space and have been rumored to be searching for help at forward. Bruins general manager Don Sweeney reportedly pursued John Tavares, Ilya Kovalchuk and Rick Nash in the off-season.