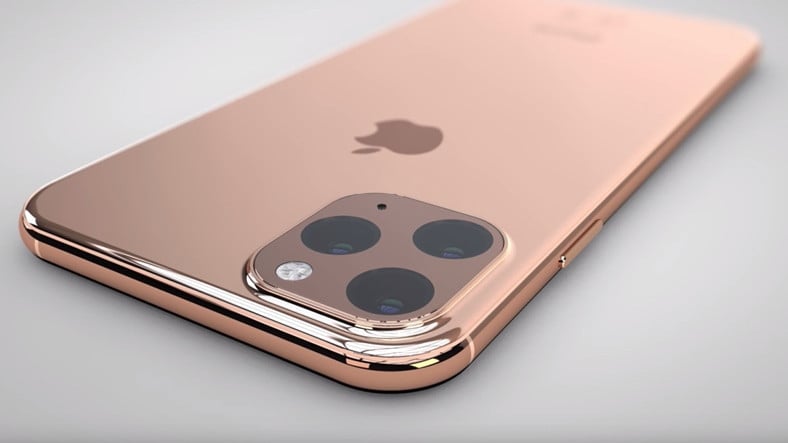 [ad_1]
Concept designer Ben Gaskin created an iPhone 11 clone with his own design.
As one of the largest companies in the smartphone market, Apple has added many innovations to the world of smartphones and this market has led differently. The latest change in the smartphone market is to include the excellent design of a growing screen size. As such, the new generation of the company's new generation is eagerly awaiting the technology world.
The innovation of the company has inspired independent designers, and many designers have created their own design for next-generation iPhones. One such designer is Ben Gaskin. Gaski created the concept for the first iPhone 11, but this time he turned it into a clone phone and shared the video from its official Instagram account.
The first eye-catching details in Gesquin's Clone iPhone 11 are a set of three cameras and a device's rear flash camera. Designer has not missed the latest iPhone trends in design and the phone does not choose to put 3.5 mm jack. One more notable detail in the video, which is short-lived, is a big design, which shows that the clone design is based on the iPhone X series.
What do you think about Ben Geskin's iPhone 11 designs, which include three different colors? Do you think Apple will use the programming camera placement option on the camera set? You can share your thoughts with us in the comments section.
$ (Function () {
// Facebook window.fbAsyncInit = function () { fb.init ({ Application: & # 39; 1037724072951294 & # 39; xfbml: true, Version: & # 39; V-2.5 & # 39; }); };
(Function (D, S, ID) { var js, fjs = d.getElementsByTagName (s)[0]; If (d.getElementById (id)) {return;} JS = D.createElement (s); js.id = id; js.src = "http://connect.facebook.net/en_GB/sdk.js"; before fjs.parentNode.insert (js, fjs); } (Document, & # 39; script & # 39 ;, & # 39; Facebook-JSCDC & # 39;);
$ (& # 39; Body & # 39;). Ten ({ Click: Function () { // facebook save button ajax If fb.xfbml.p (); } }, & # 39; .facebook-save & # 39;);
// Share scroll If ($ (& # 39; content-sticky & # 39;) length> 0) { If ($ (window) .width ()> = 768) { $ (Window) .on (& # 39; Scroll & # 39 ;, function () { var scroll scroll = $ (this) .ScrollTop (); $ (& # 39; Articles & # 39;). Each (function () ({ If (Scrolltop> = ($ (this). Search (& # 39; Content-body & # 39;) Offset () Top - 76)) { Find $ (the) (& # 39; Content Sticky. & # 39;) AddClass (& # 39; Sticky & # 39;). Close (& # 39; content-body & # 39; offset). Top + $ (this). Search (& # 39; Content-body & # 39; Height) - ($ (this) .ed (& # 39; content-sticky & # 39;) height () + 92))) { Find $ (the) (& # 39; Content Sticky. & # 39;) RemoveClass (& # 39; Sticky & # 39;). $ (This) .ed (& # 39; content-sticky & # 39;). CSS ({& # 39; bottom & # 39;: & # 39; 0px & # 39 ;, & # 39; top & # 39 ;: & # 39; auto & # 39;); } Second { Find $ (the) (& # 39; Content Sticky & # 39;). AddClass (& # 39; Sticky & # 39;). CSS ({ & # 39; Below & # 39;: & # 39; Beginning & # 39 ;, Click the & # 39; top & # 39 ;: & # 39; 76 px & # 39; }); } } Second { $ (This). Search (& # 39; Content-Sticky & # 39;). Remove (& # 39; sticky & # 39;). CSS ({& # 39; bottom & # 39;: & # 39; auto & # 39 ;, & # 39; top & # 39 ;: & # 39; 0 & # 39;); } }); }); } }
// Click Share $ (& # 39; Body & # 39;). Ten ({ Click: Function () { var $ this = $ (this), dataShareType = $ this.attr (& # 39; Data-Share-Type & # 39;) Data type = $ this.attr (& # 39; Data-type & # 39;), dataId = $ this.attr (& # 39; data-id & # 39;) dataPostUrl = $ this.attr (& # 39; data-post-url & # 39;) dataTitle = $ this.attr (& # 39; data-title & # 39;) dataSef = $ this.attr (& # 39; data-sef & # 39;);
Switch (data type) { Case & # 39; Facebook & # 39; No fb.u ({ Method: The & # 39; Share & # 39; href: datasaf, }, Work (response) { If (feedback &&! Feedback.error_message) { updatehit (); } });
Break;
Case & # 39; Twitter & # 39; Sharewindows (& # 39; https: //twitter.com/intent/tweet? Via = webtekno & text = & # 39; + encodeuricomponent (dataTitle) + '% E2% 96% B6 "+ encoder component (Datasauf )); updatehit (); Break;
Case & # 39; gplus & # 39; Sharewindows (& # 39; https: //plus.google.com/share? Url = & # 39; encodercompontent (datasaf)); updatehit (); Break;
Case & # 39; Mail & # 39; window.location.href = & # 39; mailto: subject = & # 39; + encodeuricomponent (dataTitle) + & # 39; and body = & # 39; + encodeuricomponent (dataSef); // updatehit (); Break;
Case & # 39; WhatsApp & # 39; window.location.href = & quot; whatsapp: // send? text = & # 39; + encodeuricomponent (dataTitle) + & # 39;% E2% 96% B6 & # 39; + Encodercompension (dataset); updatehit (); Break; }
Function share window (url) { window.open (url, "_blank", "toolbar = yes, scrollbars = yes, repetitive = yes, top = 500, left = 500, width = 400, height = 400"); }
Work rectification hit () { $ .Ajax ({ Type: "POST", url: dataPostUrl, Data: {contentId: dataId, content type: data type, share type: data share type}, Success: Work (Data) {
If ($ (& # 39; Video-Showcase & quot;) Length> 0) { var $ container = $ (& # 39; video-showcase & # 39;); } If else ($ (& # 39; Article[data-id="' + dataId + '"]& # 39;). Length> 0) { var $ container = $ (& # 39; article[data-id="' + dataId + '"]& # 39;); } If else ($ (& # 39; .wt-share-item[data-id="' + dataId + '"]& # 39;). Length> 0) { var $ container = $ (& quot; wt-share-item[data-id="' + dataId + '"]& # 39;); } Second { $ Container = null; }
// var $ container = data type == & # 39; video & # 39; $ (& # 39; Video-Showcase & # 39;): $ (& # 39; Article[data-id="' + dataId + '"]& # 39;);
If ($ container! = Null && $ container.length> 0) { var $ badged = $ container.ind (& # 39; wt-share-badge - & # 39; + DataShare type);
Find $$ header = $ (& # 39; content-header & # 39;). (& # 39; wt-share-count & # 39;) $ containerCount = $ container.find (& # 39; wt-share-count & # 39;) Value = parseInt ($ containerCount.html ()) + 1;
$ container.data (& # 39; Share & # 39 ;, Values); //$containercount.html(valu a);
If ($ headcard.length> 0) { //$headercount.html(valu a); }
If ($ badged.length> 0 && (DataSheer Type == & # 39; Facebook & # 39; Datasheet Type == & # 39; Twitter & # 39;))) { If ($ badged.hasClass (& # 39; visible & # 39;)) { //$badged.html(d); } Second { //$badged.addclass('is-visible').html(d); } } }
} }); } } }, & # 39; .wt-share-button & # 39;) }); [ad_2]
Source link