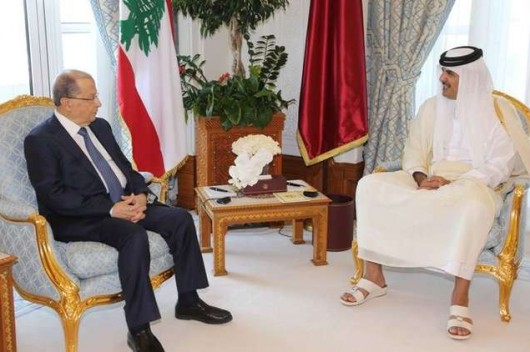 Qatar Amir, Tamim bin Hamad Al Thani, sent a message sent to Lebanese President Michael Aun on the bilateral relationship between the two countries on Monday.
Qatar Ambassador Lebanon Muhammad Hasan has sent a letter to Jaber Al Jaber for Ain. He was received by the Lebanese President of Babaada Palace.
The official channel "Qatar" is a message entitled "Bilateral Ties and Directions" without revealing details about the content of the document.
The Emir letter of Qatar, according to the official National Information Agency of Lebanon, concluded: "The invitation to attend the Arab Economic and Social Development Summit is held in Beirut on the fourth session, which will take place from January 19 to 20, 2019.
The Qatar Amir Lebanese Agency states that "The summit aims at achieving the desired goals of the summit and the idea of ​​supporting Arab solidarity and promoting cooperative Arab activity for the benefit of the nation and nation of the region.
Source: Agencies