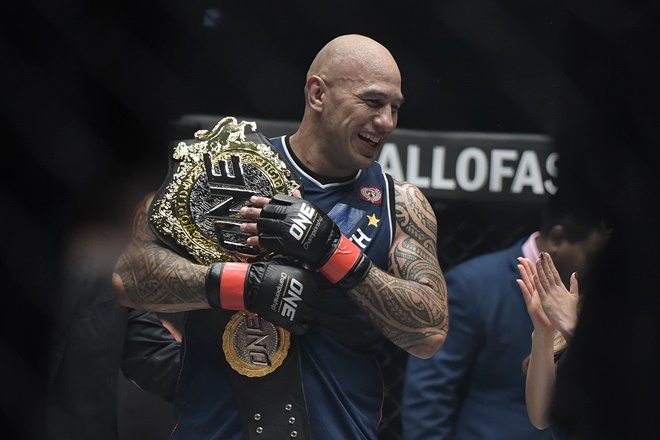 Brandon Vera was less than required by round, while Edward Folyang was a unanimous decision in two titles bouts of a championship championship in the Philippines.

Manila, Philippines – After two years of divorce, Brandon "The Truth" Vera successfully retains one of its heavyweight world titles by a first-round knockout of Italy's Mora Cyrilini in a Champions Champion victory at MoA Arena on Friday, November 23.
In more than a minute, Vera covered a wonderful left counter jab to crush syriline. The referee immediately went after the Italian brewery fell down to stop fighting.
At the co-main event, Edward "Landslides" Foliang (21-6) took a decisive unanimous decision on young Singaporean Emir Khan to regain a lighter weight world title.
After the first uncertain first round, Folang gave the elbows to the elbows in the 4-minute mark of another, which led to Khan's bleeding. Fauling wrapped two rounds with skillful elbow, with two more spinning elbow behind Singapore.
Khan was fired with Nifty jumping headlong takedown at third place, but Foliang was out of time. Landless then charged four times with a skin skin later because Khan got support in the cage wall.
Foliang dispersed the fight with a flying kick in the stomach in the winning round of the final round.
And in the pre-main event catch-weight boat, Honorio "The Rock" Banario (14-7) won a unanimous decision on Rahul, "Kerala Crusher" on Raju.
Bananio outplayed some clean head shots in 1st and the well left by Raju's Takedown. Raju succeeded in getting a banario on the ground in round 2, but the Filipinos faced some more combos.
Both the fighters apparently took the gas for up to 3 rd, as long as the banario did not use the final acne and did not allow the back of the bell.
Other matches include the controversial unanimous decision on Russian Alvardi Ramazanov by Samaypet Frettex of Thailand and the victory of Tikko in the second round dominated by Filipino veteran Jeremy Miyado on Chinese Pang Xu Van.
Full results:
Master Card:
Brandon Vera (PHI) Defe. Through Mauro Cyril (ITA) 1 co (left jap, 1:04)
Edward Folyang (PHI) Defe. Amar Khan (SG) by UD
Honorio Banariono (PHI) Defe. Rahul Raju (IND) by UD
Samppet Fairtakes (THA) Def Alvardi Ramazanov (RUS) by UD
James Nakashima (USA) Diff. By Raymond Magomedalive (RUS) UD
Hiroki Suzuki (JPN) Def Dividends by Denali (LIT) UD
Initial:
Sammy Sana (FRRA) Diff. By Arman Petrosian (ITA) UD
Alexandre Machado (BRA) Diff. By Hydecic Sequin (JPN) RD 2 tico (Punch, 1:44)
Han Zi Zhao (CHN) Def Aswan Che Will (MAL) (broken arm TKO)
Jeremy Murado (PHI) Defe. Peng Zhu Van (CNN) by RD 2 tico (Punch, 0:35)
Akihir Fujisawa Dief Rocky Bectol (PHI) By RD 3 tico (Punch, 0:19)
Rudy Augustine (INA) Def Asharful Islam (BN)
Source link