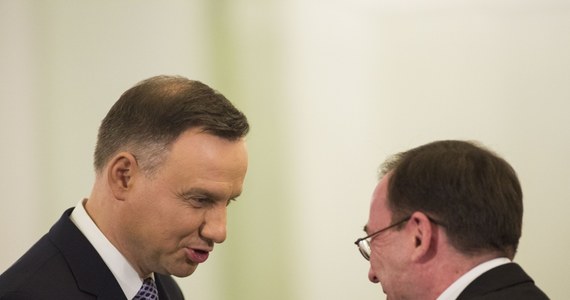 President Andrzej Duda Mariusz will appoint Kaminsky as the Minister of Interior and Administration on Wednesday, said President's Spokeswoman Biajas Spychalski. The ceremony will take place at noon in the Presidential Palace.
Andrej Duda and Mariusz Kaminski
/Andrej Hulimka /Reporter
"At 10:00 pm on August 14, 2019 (Wednesday) in the Presidential Palace, President Andrej Duda of the Republic of Poland will change the composition of the Council of Ministers. During the ceremony, the President's speech to the Republic of Poland is planned," the Office of the President announced on the website.
Presidential Spokesperson Biagge Spichalski confirmed in an interview with PAP that he was considering the nomination of Mariusz Kaminsky as head of the Ministry of Interior and Administration.
On Friday, Sagem Marshal Marek Kuchewski resigned. This was due to information about his commercial flights. The current head of the Ministry of the Interior and Administration, Elbieta Vitek, becomes the new Marshal.
Government spokesman Piotr Mલller on Friday reported that Prime Minister Moravitsky has delegated duties to the coordinator of the Mari Riz K Miski special services to the Ministry of Interior and Administration. The head of the government also asked President Andrew Duda to appoint Kaminski as the new interior and administration minister. "The Minister will continue to coordinate the work of the Special Services" – noted Mલller.