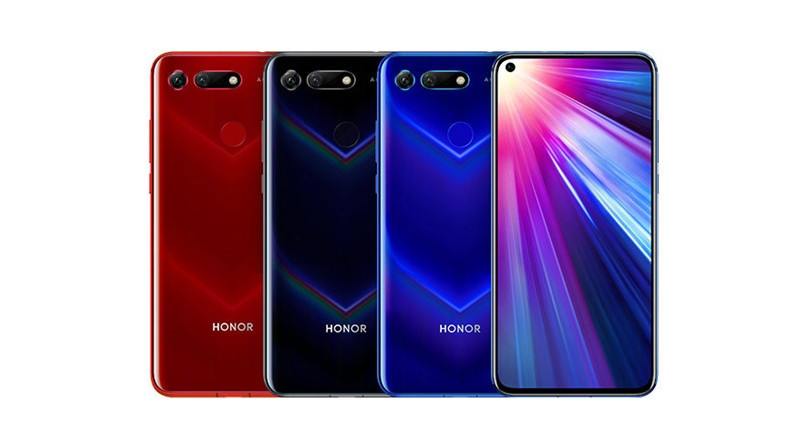 Onor's flagship phone Onor 20, which is Huwei's vice-brand, has been announced.
Last week, Honor, Huawei's sub-brand, launched its flagship phone Honor V20 in China. The same phone is released under the name of Honor View 20 in the Global Area.
As expected, the company announced Honor View 20 in Paris today. In the advertisement, 48 MP primary camera, 25MP front camera and link turbo technology were also mentioned.
The phone has a premium look with a combination of metal and glass. In addition, the company's first V-series smartphone There is a frontal camera in the small hole on the left side of the device's screen. Thanks to the 4.5 mm diameter camera hole, the phone's screen frame is very thin.
For the characteristics of the phone, it has almost the same features as the Honor V.2 phone has a 6.4-inch IPS LCD display display. Also, the screen has a resolution of 2310×1080 pixels in full HD +. The device's screen body rate is 91.82%, while the pixel density is 382ppi.
If we look at the interior, the phone's chipset will have its own liquid refrigeration technology, with eight core Kirin 980s. With 8GB of RAM and 256GB internal storage, the memory of the phone can be increased with Microscope.
The Sony IMX586 48MP camera also has a horizontal position on the camera. The 48 MP camera has an ultra-clean facility with artificial intelligence, which helps in more powerful image processing.
The camera also has AIS Super Night Vision, 960 FPS Super Slow Motion Mode. 3D tof (Flight time) The facility is available for Augmented Reality. The phone has a 25MP retina camera with an F / 2.0 rating powered by artificial intelligence.
On the software side, Honor View 20 comes with Android pie based EMUI 9 and GPU Turbo 2.0, which improves GPU performance. According to the company's claim, the display of the device's GPU is 20 times better than the mainstream phone. There are also nine liquid cooling methods.
Bluetooth 5.0 and USB Type-C devices with a device's battery support up to 4000 MH and faster charging.
Honor View 20 comes with four different color options; Midnight Black, Blue Sapphire, Phantom Red and Phantom Blue There are two different options for the price;
6 GB RAM, 128 GB internal storage model 549 Euro
8 GB RAM, 256 GB internal storage model 649 Euro
Phone will be available in European countries from January 23.
Take your interest
Udemy course that you can learn to complete Java to start programming is £ 40.99 instead of 409 TL
Kaynak : https://www.gizmochina.com/2019/01/22/honor-view-20-global-launch-specs-price/
$ (Function () {
// Facebook window.fbAsyncInit = function () { fb.init ({ Application: & # 39; 1037724072951294 & # 39; xfbml: true, Version: & # 39; V-2.5 & # 39; }); };
(Function (D, S, ID) { var js, fjs = d.getElementsByTagName (s)[0]; If (d.getElementById (id)) {return;} JS = D.createElement (s); js.id = id; js.src = "http://connect.facebook.net/en_US/sdk.js"; before fjs.parentNode.insert (js, fjs); } (Document, & # 39; script & # 39 ;, & # 39; Facebook-JSCDC & # 39;);
$ (& # 39; Body & # 39;). Ten ({ Click: Function () { // facebook save button ajax If fb.xfbml.p (); } }, & # 39; .facebook-save & # 39;);
// Share scroll If ($ (& # 39; content-sticky & # 39;) length> 0) { If ($ (window) .width ()> = 768) { $ (Window) .on (& # 39; Scroll & # 39 ;, function () { Scrolltop = $ (this) .ScrollTop (); $ (& # 39; Articles & # 39;). Each (function () ({ If (Scrolltop> = ($ (this). Search (& # 39; Content-body & # 39;) Offset () Top - 76)) { Find $ (the) (& # 39; Content Sticky. & # 39;) AddClass (& # 39; Sticky & # 39;). Search (& # 39; Content-Organization & # 39;) Offset (). Top + $ (this). Search (& # 39; Content-Organization & # 39;). Height () - ($ (Find these (& # 39; Content-Sticky & # 39; Height) () + 92)) { Find $ (the) (& # 39; Content Sticky. & # 39;) RemoveClass (& # 39; Sticky & # 39;). $ (This) .ed (& # 39; content-sticky & # 39;). CSS (& # 39; Bottom & # 39;: & # 39; 0 px & # 39 ;, & # 39; Top & # 39;: & # 39; Auto & # 39;); } Second { Find $ (the) (& # 39; Content Sticky & # 39;). AddClass (& # 39; Sticky & # 39;). CSS ({ & # 39; Below & # 39;: & # 39; Beginning & # 39 ;, Click the & # 39; top & # 39 ;: & # 39; 76 px & # 39; }); } } Second { $ (This). Search (& # 39; Content-Sticky & # 39;). Remove (& # 39; sticky & # 39;). CSS ("bottom": & # 39; Auto & # 39 ;, & # 39; top & # 39 ;: & # 39; 0 & # 39;); } }); }); } }
// Click Share $ (& # 39; Body & # 39;). Ten ({ Click: Function () { var $ this = $ (this), dataShareType = $ this.attr (& # 39; Data-Share-Type & # 39;) Data type = $ this.attr (& # 39; Data-type & # 39;), dataId = $ this.attr (& # 39; data-id & # 39;) dataPostUrl = $ this.attr (& # 39; data-post-url & # 39;) dataTitle = $ this.attr (& # 39; data-title & # 39;) dataSef = $ this.attr (& # 39; data-sef & # 39;);
Switch (data type) { Case & # 39; Facebook & # 39; No fb.u ({ Method: The & # 39; Share & # 39; href: datasaf, }, Work (response) { If (feedback &&! Feedback.error_message) { updatehit (); } });
Break;
Case & # 39; Twitter & # 39; Sharewindows (& # 39; https: //twitter.com/intent/tweet? Via = webtekno & text = & # 39; + encodeuricomponent (dataTitle) + '% E2% 96% B6 "+ encoder component (Datasauf )); updatehit (); Break;
Case & # 39; gplus & # 39; Sharewindows (& # 39; https: //plus.google.com/share? Url = & # 39; encodercompontent (datasaf)); updatehit (); Break;
Case & # 39; Mail & # 39; window.location.href = & # 39; mailto: subject = & # 39; + encodeuricomponent (dataTitle) + & # 39; and body = & # 39; + encodeuricomponent (dataSef); // updatehit (); Break;
Case & # 39; WhatsApp & # 39; window.location.href = & quot; whatsapp: // send? text = & # 39; + encodeuricomponent (dataTitle) + & # 39;% E2% 96% B6 & # 39; + Encodercompension (dataset); updatehit (); Break; }
Function share window (url) { window.open (url, "_blank", "toolbar = yes, scrollbars = yes, repetitive = yes, top = 500, left = 500, width = 400, height = 400"); }
Work rectification hit () { $ .Ajax ({ Type: "POST", url: dataPostUrl, Data: {contentId: dataId, content type: data type, share type: data share type}, Success: Work (Data) {
If ($ (& # 39; Video-Showcase & quot;) Length> 0) { var $ container = $ (& # 39; video-showcase & # 39;); } If else ($ (& # 39; Article[data-id="' + dataId + '"]& # 39;). Length> 0) { var $ container = $ (& # 39; article[data-id="' + dataId + '"]& # 39;); } If else ($ (& # 39; .wt-share-item[data-id="' + dataId + '"]& # 39;). Length> 0) { var $ container = $ (& quot; wt-share-item[data-id="' + dataId + '"]& # 39;); } Second { $ Container = null; }
// var $ container = data type == & # 39; video & # 39; $ (& # 39; Video-Showcase & # 39;): $ (& # 39; Article[data-id="' + dataId + '"]& # 39;);
If ($ container! = Null && $ container.length> 0) { var $ badged = $ container.ind (& # 39; wt-share-badge - & # 39; + DataShare type);
Find $ headerCount = $ (& # 39; content-header & # 39;). (& # 39; wt-share-count & # 39;), $ containerCount = $ container.find (& # 39; wt-share-count & # 39;) Value = parseInt ($ containerCount.html ()) + 1;
$ container.data (& # 39; Share & # 39 ;, Values); //$containercount.html(valu a);
If ($ headcard.length> 0) { //$headercount.html(valu a); }
If ($ badged.length> 0 && (DataSheer Type == & # 39; Facebook & # 39; Datacher Type == & # 39; Twitter & # 39;)) { If ($ badged.hasClass (& # 39; visible & # 39;)) { //$badged.html(d); } Second { //$badged.addclass('is-visible').html(d); } } }
} }); } } }, & # 39; .wt-share-button & # 39;) });
Source link